CUSTOMIZE FREE SAMPLES FOR VIP CUSTOMERS.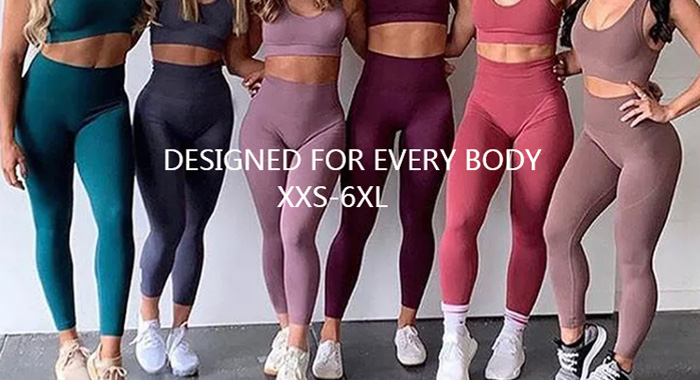 We design luxe activewear for Every Body!We offer sizes xxs -6XL
What is the shipping cost of your sportswear sample?

Our sportswear sample mainly uses DHL/UPS/FEDEX express company.The cost of a sample is based on DHL/UPS/FEDEX regional fees, additional fuel charges, and exchange rates. Therefore, the cost varies from month to month.




For more information,please contact us!

Can you supply a specific type of fabric materials as we order?

Yes, we can provide fabrics according to your needs. We usually provide polyester, spandex, cotton, nylon, blended fabrics, etc.


Do you provide samples?

We are happy to provide samples for your testing before you place an bulk order. So you could know our quality and performance.


YOYOUNG Activewear MOQ

1. What is your minimum order quantity?




Our minimum order quantity is 100 pcs, mixed with 1 color and 4 sizes to meet the needs of more new and old customers and combine our own production.

2. How is MOQ calculated?




First, roll up the cloth piece by piece. According to the amount of fabric used in different clothes, a roll of cloth can make about 80-100 pieces. The rest is waste. Then there are production costs. The machine can be processed in large quantities at one time. No matter how much it is, the operating cost of the machine is the same.




Therefore, if the quantity is too small, the unit price of the product will be high.

Why Is YOYOUNG Activewear A Recommended Private Label Gym Clothing Manufacturer?

If you are looking for a private label fitness clothing manufacturer that can build your retail store or your own brand, then YOYOUNG gymwear company is your preferred brand. The company has many years of experience in producing high-quality fitness clothes. Here are the reasons why you choose us:




*At YOYOUNG gymwear, we are a dynamic team and we absolutely love what we do. Our passion is reflected in our great design and product quality, and is consistent.




*We are known for our dedication, hard work and commitment, and always deliver bulk orders within the specified time and time.




*You will have a good time to do business with us, because we provide OEM and private label services.




*We believe that customers are always right, and our private label customized fitness clothing services are based on customer needs and requirements.




*We like to innovate, and constantly update and adapt to changing market trends.

What Is The Production Process of YOYOUNG Gym Wear?

Before mass production, first we will make pre-production sportswear samples, so we need to make sure everything is normal, and then start mass production. During this process, our sales staff will confirm all details with you before arranging sewing to ensure the quality of the samples.




If the sample is satisfactory, then mass production will proceed smoothly. Followed by fabric testing, cutting, printing, sewing, ironing, quality inspection and packaging. Finally, deliver the goods.
Get New Sportswear Sample & Catalogue
We're here to do all the work, so you can focus on building your relationship with your customers.

Name:

Caroline
Tel:

86-18001524615
WhatsApp:
Address:

Room 6666, Zhongtai Building, NO. 6, Xinyuan Road, Jiangyin, Jiangsu, China